Detailed introduction
---
We have Multigas solution, which can test Sevoflurane, Isoflurane, Enflurane, carbon dioxide (CO
2
), nitrous oxide (N
2
O), and respiration rate (RR).
Multigas solution can test Sevoflurane, Isoflurane, Enflurane, carbon dioxide (CO
2
), nitrous oxide (N
2
O), and respiration rate (RR).
It can be applied in the following scenarios:operating room, intensive care unit, long-term acute care, monitoring of endotracheal tube placement etc.
Product features:
· Fast Response - short warm up time and real-time waveform displayed in 15 seconds.
· Full Solid design - long use life in challenging environment.
·
Easy to use and maintain - no user routine calibration required.
Your Choice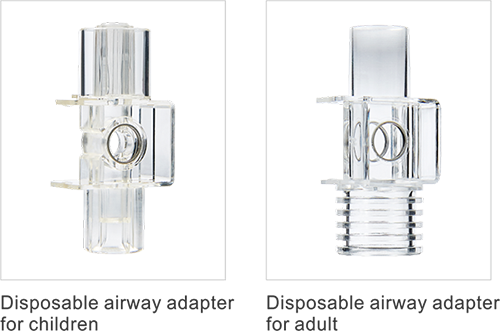 Technical Specifications
Parameters
Range
Accuracy
CO2
0 -15%
±(0.2%+5% )@0-10%
±(0.2%+8% )@10-15%
RR
-150bpm
±1bpm
N2O
0 -100
±(2%+3% of reading)
Sevoflurane
0 -10%
±(0.15% + 5% of reading)@0-5%
±(0.3% + 10% of reading)@5-10%
Isoflurane
0 -8%
±(0.15% + 5% of reading)@0-5%
±(0.3% + 5% of reading)@5-8%
Enflurane
0 -8%
±(0.15% + 5% of reading)@0-5%
±(0.3% + 5% of reading)@5-8%
Halothane
0 -8%
±(0.15% + 5% of reading)@0-5%
±(0.3% + 5% of reading)@5-8%
Desflurane
0 -22%
±(0.15% + 5% of reading)@0-10%
±(0.3% + 10% of reading)@10-22%
Environmental
Operating temperature
0 to 40 ºC
Operating atmospheric pressure
70 to 120 kPa
Operating humidity
10-95%, non-condensing
Storage temperature
-20 to 70 ºC
Storage atmospheric pressure
50 to 120 kPa
Physical Characteristics
Dimensions
48×24.3×32.8mm
Weight
28g (not include cable)
Others
Water Resistance
IPX4– Splash-proof (sensor head only)
Warm up time
15s
Adult airway adapter
Dead Space ≤ 6ml
Infant airway adapter
Dead Space ≤ 1ml